1. The Zutons – Tired of Hanging Around (2006)
I have fond memories of listening to this album on the way to school, I didn't like it at first but after the first few listens it really grew on me and made me realise there wasn't much like it in the charts.
Tired of Hanging Around is a fun indie record that unashamedly wears its influences on its sleeves; a tribute to 60's foot-tapping rock in the style of Sgt Pepper Beatles and the sheer raw energy of The Kinks. Whilst other groups were going for a rawer, edgier sound, The Zutons were hankering back to a time of bell bottom jeans and tie-dyed shirts.
2. The Killers – Hot Fuss (2004)
To me, this album personifies the decade, perhaps more than any other. 'Mr. Brightside' is the quintessential teenage anthem for a new generation, just as Smells Like Teen Spirit was before it. Those opening chords ignite my soul like no other; a religious experience shared by all who grew up in the 00's.
I was amazed to discover years later that Hot Fuss was The Killer's debut as the album feels so fully formed. In just 11 tracks the band would define their post-grunge, electro, hard-hitting sound.
There's not much else I can say about Hot Fuss that hasn't already been said countless times before,  it will forever go down as one of the defining albums of the decade, one of the best debut studio albums, and one that will always be remembered. These songs have grown into full-bodied anthems that can be recited by millions of devotees.
3. The Darkness – Permission to Land (2003)
Hey you! Do you remember me? I used to sit next to you at school!
Way back in 2003 I remember when The Darkness were hailed as the new conquering heroes of Rock, destined to bring the much faded glories of Thin Lizzy, AC/DC, Queen, Aerosmith back into the charts and make the world Rock once more. Though facing stiff competition with the Nu-Metal movement, there is no doubt that the band made their impact, albeit for a few glittering moments.
Though largely disappearing after their disappointing follow-up album One Way Ticket To Hell and Back, The Darkness had quite a few big hits, including their bombastic air-guitar anthem 'I Believe In A Thing Called Love' which surprisingly peaked at no. 2 – quite a feat in an era of Dido, The Black Eyed Peas and Jamelia! Frustratingly, the band would almost claim the 2003 Christmas No.1 before they were knocked off the stop spot by Gary Jules' cover of 'Mad World' – something that I never got over!
At the time I think many people were unsure whether The Darkness were a 'real' band or just a Spinal Tap-esque parody. Make no mistake, this is a solid, tightly-produced Rock record that somehow manages to combine Mick Ronson/Thin Lizzy guitars with tongue-in-cheek lyrics that still manage to sound heartfelt and truthful. Ballads like 'Love is Only A Feeling' and 'Growing On Me' could easily be heard on a 70's Queen or Free album; real powerhouse stuff that harks back to the bygone age of Classic Rock. The closest the album gets to all-out comedy is my absolute favourite track 'Friday Night', which serves as a gently mocking love letter to school day nostalgia in the same vein of Pulp's Disco 2000.
Permission to Land gets played in my car stereo a few times every week without a fail, in fact, I've bought about five copies over the years, I loved listening to it now as I did in 2003.
4. Green Day – American Idiot (2004)
American Idiot is an album that I don't think could exist in any other decade – its fast acerbic punk sound could only happen in an era defined by cultural alienation, post 9/11 hysteria and the rise of garbage reality television.
Just from a quick glimpse of the cover, I think many of my generation will think back of how this album defined their wonder years. American Idiot was the gateway drug to teenage rebellion, whether it's against the War in Iraq or just rallying against bemused parents, it's themes of disillusionment, growing social divisions and cultural boredom were lapped up by an age group that is largely ignored by society
Though perhaps not as mind-blowing as Dookie, American Idiot contains some of my favourite Green Day songs. There's a real diversity of styles from the rock opera of 'Jesus of Surbubia', the up-tempo 'Holiday' to the slow haunting ode to grief that is 'Wake Me Up When September Ends'.
American Idiot was my first introduction to Green Day and is the album of theirs that I cherish the most, they still make great music to this day, but I think none of their later albums had the same impact.
5. The White Stripes – Elephant (2003)
Elephant is the sort of album that is best enjoyed as loud as possible to almost eardrum-shattering levels, only then can you best experience the maddening sound of The White Stripes.
Produced solely by analogue equipment of the 60s, Elephant is a cacophony of scratchy guitar licks, pounding drums and bluesy lyrics. Songs are short but intense, only a few run past the four minute mark.
Combined with the stripped-back production, Elephant is an unfiltered, authentic experience that puts you in mind in a homemade EP put together in a garage by the best band you've never heard.
6. The Strokes – Is This It (2001)
There's a reason that this album is celebrated as the holy grail of the Indie scene, thousands of articles have been written of its virtues and it's to no great surprise why. Is This It is just a fantastic record that stands up to constant replays and dissection, an influential record that would help shape the Indie Rock scene (especially in the UK) for a decade.
I find myself returning again and again to this album, listening to it in one sitting (running just of 40 minutes) and just sit there taking in the experience. Fresh, timeless and endlessly listenable.
7. Amy Winehouse – Back to Black (2006)
Frank was the album that made Amy Winehouse a star but 2006's Back to Black launched the soul singer into unprecedented international stardom. Almost overnight Winehouse became the country's most highly prised cultural export: Back to Black would shift 3.58 million units and has since become the second best-selling album of the 21st century, trailing only behind fellow Soul sensation Adele.
With its purposeful 60s Wall of Sound production, Back to Black is as timeless as a Marvin Gaye record feels today. People return to these songs because they stand the test of time. These 11 tracks speak universal truths of painful heartbreak, jealous anger and self-destruction that will never age.
Though gone far too soon, Winehouse's influence can be heard in the voices of Paloma Faith, Duffy and her chart-rival Adele, I truly believe she helped pave the way for solo female singers with a unique voice. A modern classic.
8. Red Hot Chili Peppers – By The Way (2002)
You could argue that Stadium Arcadium was the Chili Peppers' defining moment of the decade but I have to say that I prefer the more melodic and pronounced style of By The Way.
The eight studio album by The Red Hot Chili Peppers is a slight departure from the band's signature sound, the approach was for a emotional and subdued direction that would riff on Surf Rock, 60's Pop and early 70's Prog/Psychedelia. There are still some heavier tracks like 'Throw Away Your Television' but interestingly enough, the singles released for By The Way (By The Way, The Zephyr Song, Can't Stop, Dosed and Universally Speaking) are closer to The Beach Boys or late Beatles than the heavier sound of Blood Sugar Sex Magik.
9. You Are The Quarry – Morrissey (2004)
The English are sick to death of Labor, and Tories
And spit upon the name Oliver Cromwell
Billed as Morrissey 'comeback' album for the 00s, You Are The Quarry revitalised the changing career of the patron saint of mope for a new decade, giving him his highest chart success on record.
Though solo albums like Vauxhall & I showed he could demonstrate genius outside of The Smiths, others such as Southpaw Grammar and Maladjusted showed great potential but an unclear direction. The 2004 comeback reminded the world that Morrissey is still one of Britain's greatest lyricists; bold and unafraid – now finally matured from gloom bedroom poser to the elder statesman of disenfranchised youth.
For a man who once wrote 'Margaret on the Guillotine', Morrissey is not afraid to court controversy (maybe a separate blog post for that) by writing about his very personal take on the world. For example, the opening track 'America Is Not the World' tells you all need to know about what Morrissey thinks of the growing imperialism of the free world, 'Irish Blood, English Heart' is a sardonic take on nationalism, and you can get guess 'The World Is Full of Crushing Bores' is about. My favourite track 'First of the Gang to Die' is as close to a pop standard as Morrissey gets -a tongue-in-cheek ballad of crime, hard men and the macabre.
It's a shame that Morrissey has not produced an album as polished or refined as You Are The Quarry in quite some time, I have found his recent albums to be more of a collection of half-baked political observations rather than actual songs.
10. U2 – How To Dismantle An Atomic Bomb (2004)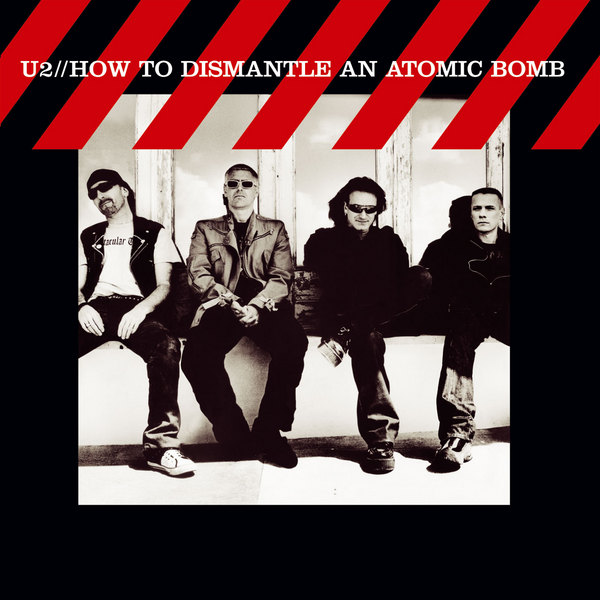 I think I may lose a few 'cool points' for including this album (not that I had many away) over much more lauded and important albums of the decade, but I'm following my heart this one.
Yes, How To Dismantle An Atomic Bomb is not a ground-breaking album like many of this list, it is however, a great collection of songs that never fail to elicit a strong emotion from me.
The City of Blinding Lights is one of my all-time favourite U2 songs, it's one of those simple but powerful songs that always gets to me, showing that despite the sell-out arena tours and millions of dollars, the band can still make an impact after 30 years. Similarly, 'Sometimes You Can't Make It on Your Own' evokes Joshua Tree era U2 in the style of 'With or Without You' and 'I Still Haven't Found What I'm Looking For'.
This is an album I heard at a young age just when music was still taking hold of my life, it means a lot to me, and I still think it's an excellent pop record with real heart and soul.